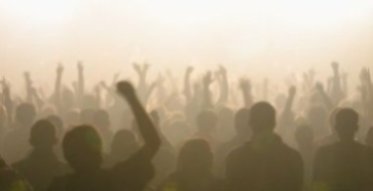 With all the solid music released in 2007, RMR thought that we would allow certain staffers to contribute their top albums of this year individually rather than collectively. These lists promise to offer unbridled opinions, rampant variety, and opportunities for all readers to agree, hate, or be just plain befuddled. Without any further ado, I, Chris Donaghey, will be first to venture off into the impossible territory of picking favorites. And just so you all know, choosing favorite albums this year was like picking your favorite child...only you're a rabbit, you have an endless litter, and they're all laying Cadbury eggs.
50. !!! – Myth Takes
The dance-punk revival of five years ago continues onward with Myth Takes, a massive, frothing mug of thunderous grooves. The best !!! release to date and by far their most focused and concise effort.
Download: Heart of Hearts
49. Liars – Liars
The follow-up to their critically acclaimed Drums Not Dead found Liars in equally grimy territory, but with more punk fervor and determination to get them through it. They have approached art-rock head on, stared into the eye of the beast, and evolved in their own special way.
Download: Clear Island
48. Eluvium – Copia
Copia is one of 2007's most cinematic albums. While listening to it, the sensation that you are existing within multiple emotional apexes of a gorgeous film is inescapable. It won't get you dancing or your fists pumping, but it doesn't need to to make an impact. Sometimes, being lulled surrounds you so much more.
Download: Amreik
47. The Arcade Fire – Neon Bible
Few bands have garnered as much hype as this Canadian group and up until this point, I didn't believe very much of it was warranted. But on Neon Bible, they finally start to catch up to the praise with poignant songs about anything from religious frustration to general social strife set to infectious orchestral swells.
Download: Black Mirror
46. Bon Iver – For Emma, Forever Ago
Following the breakup of his former band, Justin Vernon formed Bon Iver (a butchering of the French for "good winter") as a solo musical catharsis. It is a bittersweet victory for out of the ashes of his former group - and likely former life in general - comes this stirring release of understated folk tunes in the vein of Iron and Wine, Will Oldham, and Sparklehorse.
Download: Skinny Love
45. Miranda Lambert – Crazy Ex-Girlfriend
I thought it would be a cold day in hell before I'd put a contemporary country album on my top albums of the year list, but Crazy Ex-Girlfriend was impossible for me to deny. It was akin to disliking boy bands, but feeling J-Tim's albums: the enjoyment didn't necessarily make sense, but it was definitely real. Her songs are simple, endlessly catchy, and heartfelt. Just..a damn good album.
Download: Famous in a Small Town
44. Dizzee Rascal – Maths and English
Half the time, the most difficult thing about Dizzee's grime-tinged hip-hop fury is simply understanding what the fuck he's talking about. That Cockney is thick as London fog, man. But even if you don't always know what he's saying, his flows are undeniable and the beats are as claustrophobic and anxiety-inducing as ever. Plus, I'm sure that "Pussy'ole (Old School)" will remind you of at least one backstabber you've known. Or...at least you'll know that sample.
Download: Pussy'ole (Old School)
43. Enon – Grass Geysers…Carbon Clouds
My love of Brainiac is something that will span the ages but their John Schmersal-led spinoff Enon has represented them well so far. Hocus Pocus was a bit of a departure from their spastic-pop ingenuity but Grass Geysers... once again finds the trio en route to destinations unknown with unexpected hooks and perplexing, yet engaging restraint. Brainiac would have never made a straightforward anthem like "Mr. Ratatatat," but therein lies Enon's unique appeal. Consider the script continually flipped.
Download: Paperweights
42. Muscles – Guns Babes Lemonade
"Ice Cream" was one of my summertime anthems this year. The quirky as hell electro-funk-pop of Muscles was not lost on me and I was patiently awaiting a full-length. I wasn't disappointed. The multi-tracked vocals were everywhere and somehow, it worked. The synths, disco posturing, what-the-fuck lyrics..all of it was balanced. This is an album for dancing and it would almost be an insult if you managed to dance to it well.
Download: Lauren From Glebe
41. Blonde Redhead – 23
Definitely the most tortured album on my top list this year in terms of atmosphere, Blonde Redhead return with another slick genre-bending collection of impeccably produced music. As usual, the vocals of Kazu Makino carry the songs everywhere they end up going and they do not remotely disappoint. Makino is an unequivocal expert in adding layers upon layers of emotional weight to distorted guitars or soft pianos with the most simple of pitch shifts. This is a band that still has legs.
Download: Dr. Strangeluv
40. Bat for Lashes – Fur & Gold
Natasha Khan's Mercury Prize-winning debut is one that solidly places her in a rare pantheon of female musicians who want to put sounds out there that are uniquely their own. From the opener "Horse And I" - which is brilliantly constructed with near-OCD attention to sonic detail - throughout, Khan uses any instrument around to craft her sonic manifesto, one of a woman strong enough to express her independence, but realistic enough to realize the human struggles inherent to it.
Download: Horse And I
39. Bowerbirds – Hymns for a Dark Horse
Bowerbirds bring back the craft of folk collectives of yore with Hymns for a Dark Horse. On each track, you can picture the band recording these songs in a barn or out back not necessarily because of the production, but because of the nature within, an unbridled yet tight sense of where folk is and where it is going with a delicate attention to whence it came. Fans of Grizzly Bear and Akron/Family would likely latch on to this one with reckless abandon.
Download: In Our Talons

38. Avishai Cohen – After the Big Rain
Israeli musician Avishai Cohen has been involved in innumerable projects throughout his life but this is the first one I have fully embraced. This album fuses together African jazz, electronica, and enormous portions of various world music traditions to create an homage to Miles Davis-like experiments of yore. It is surely unlike anything many have heard this year and akin to things many of us have enjoyed before.
Download: Parto Forte
37. Yeasayer – All Hour Cymbals
In this era ever-driven by blog hype, Brooklyn's Yeasayer seems to have cashed in most in 2007, going from nearly completely unknown to gracing the pages of many independent and mainstream publications in no time. The hype was worth it, though, as their album coupled together a plethora of influences, coming out as a glorious hodgepodge one of the best (and most musically intelligent) people I know described as some sort of gay African or Indian musical straight from the American 1980s. Take that as you will. I took it...to the bank. Bam.
Download: 2080
36. UGK – Underground Kingz
Rather than eulogize Pimp C on this summation, I'll just focus on the fact that this is an awesome double album. Funky, soulful, mindblowing production any Outkast fans would eat up, and rhymes by the barrel, Underground Kingz is one that will go down as one of hip-hops finest double albums in a long time. Plus, the cameos by Dizzee Rascal and the Stankonians themselves are just plain tight.
Download: Int'l Players Anthem (featuring Outkast)
35. Deerhoof – Friend Opportunity
When I reviewed Friend Opportunity earlier this year, I figured that it would have legs and although it didn't rise any higher than 35, it's still my favorite Deerhoof release. In my opinion, it is at once both their most accessible and most experimental, blending some classic bluesy riffs with cutesy vocals, random trumpet outbursts, and some disco-envy drums into one hodgepodge of a great rock album.
Download: The Perfect Me
34. Jesca Hoop – Kismet
As you can see by my list, I think that there were many great albums released by female singer/songwriters this year and even though none touched the greatness of Joanna Newsom's 2006 epic Ys, plenty showed promise, few more than Jesca Hoop's debut. This former nanny of Tom Waits shows flashes of Fiona Apple, Regina Spektor, and a little Natalie Merchant played through the musical prism of an intimate, smoky club or a backwoods night depending on the track. An understated debut, yes, but one with loads of potential.
Download: Love is All We Have
33. Kanye West – Graduation
I'm not going to lie. I didn't like this album at all the first time I heard it, mainly because I was pissed at how 'Ye copped Daft Punk's shit and made an awful video of it with a couple of the most absurd rhymes ever. So how did he get on this list and work this high? Well, simply put, it's a grower. And it's pretty fucking sweet, actually. Kanye took this one to the next level in terms of production, taking it a step away from being too sample-heavy and crafting a solid tapestry of techno-future-funk songs with just enough soul to add to the mix. It's clear he still thinks that he's the second coming of something, but he's still good at supporting that bravado.
Download: Can't Tell Me Nothing
32. Bodies of Water – Ears Will Pop & Eyes Will Blink
Polyphonic Spree, eat your heart out. Danielson, step your game up. Bodies of Water's album wears its pomp on its sleeve, swelling like The Arcade Fire with as much cheer and Godly love as the aforementioned musical "cults." This is the kind of music that brings hands both together and across America, making all of us, for a brief hour or so, hippies of the highest caliber, shouting out our emotions weightlessly like polemic to any beliefs imaginable. Or it's the kind of music that you listen to and enjoy. Probably both.
Download: I Guess I'll Forget the Sound, I Guess, I Guess
31. HEALTH – HEALTH
Assisted by a couple reputable music blogs and a positive Pitchfork review, LA noise band HEALTH broke onto the scene this year with a ferocious self-titled LP. Their lyrics are extremely vague and their catchy pop sensibilities are almost non-existent, but they manage to throw everything together with some of the most solid drumming of the year to make something completely individualized and addictive. When "Triceratops" pulses through your speakers and those three minutes complete themselves, you will either be extremely whiny at how loud that shit was or you will eat it up and demand more.
Download: Crimewave
30. The Rosebuds – Night of the Furies
This North Carolina couple has made some of the best indie pop in recent memory, in my opinion, and they added some various elements of ultra-slick dance music in their latest full-length. Thankfully, this fusion works, sounding at times like Depeche Mode and others like a completely modern metamorphosis of Sonny and Cher on some mysterious bender. It's a good thing, especially if it's able to produce the inescapable "Get Up Get Out." Well worth the price of admission. Keep it up, you two.
Download: Get Up Get Out
29. Shuta Hasunuma – OK Bamboo
Shuta Hasunuma's obscure release from this year, which I was thankfully album to find through random band associations, throws together elements from The Books, The Notwist, and other IDM-associated laptop folkies to make one of the most minimal albums of the year. Full of glitchy goodness and subtle melodies, piano and guitar chords that literally bubble and splash, this could be a perfect album to soundtrack a late night study session or to just meditate to after a long day. It may be difficult to describe, but it is not remotely a difficult listen for those with open ears.
Download: Return of the Bamboo
28. Josh Ritter – The Historical Conquests of Josh Ritter
On The Animal Years, we all heard Josh Ritter refining his strong folk sensibilities into a well-crafted rock epic. Here, he comes into full-on Bob Dylan fetishism, exuding some of the icon's lyrical ingenuity at every turn and at times even emulating his voice on this collection of toe-tapping tunes. Ritter is finally getting some more attention on his tours (and even some attention on local radio stations in Indianapolis), so maybe his deserved time is upon us. Fans of Dylan, Neil Young, and Bruce Springsteen should tune in to this Historical Conquest.
Download: Rumors
27. A Place to Bury Strangers - A Place to Bury Strangers
If you could imagine a bastard child of My Bloody Valentine and Joy Division that was adopted by some sort of hardcore goth cult, that would be somewhat close to A Place to Bury Strangers, an incredibly atmospheric and emotional group whose self-titled album will both tear your heart to shreds and sweep up the pieces for you. The songs hold their vocals close and rarely let them see the light of day but when they do, they're fragile yet strong enough to stand on their own two feet. A wonderful debut from a group that will find this album difficult to match.
Download: To Fix the Gash in Your Head
26. The Go! Team – Proof of Youth
No, it won't have the same immediate impact with most of you as Thunder, Lightning, Strike, but it is still worth your time. The formula here is very similar: equal parts hip-hop, double dutch samples, funky 70s chase scene guitar, and ADD madness thrown together in a blender and delicately blended to taste. The sound is now theirs without question and now all they have to do is keep refining their formula, retooling the wheel without even the need to reinvent it.
Download: The Wrath of Marcie
25. Fiery Furnaces – Widow City
What exactly is a widow city? Some sort of depressing town? A veiled pun about the state of being a widow? I have no idea, but I never was certain about a blueberry boat either but I dug that Fiery Furnaces album. Sadly, nothing of theirs since that massive, oblique release did anything for me until Widow City graced my ears. The Friedbergers have at long last melded their penchant for maddening concepts, adept sense of hooks, and hidden ability to make songs of manageable lengths into a completely listenable album. Sure, there are songs that overreach quirky and hit somewhere between "progressive" and "lunatic," but they come back to earth with little delay. If this pair lost you back when they started letting their grandmother sing, this one should be able to bring you back.
Download: Automatic Husband, Ex-Guru
24. Marissa Nadler – Song III: Bird on the Water
As you look down my list, you will notice that this is the highest ranking of the female folkies (or singer/songwriters) this year. This is not a statement toward my sexist nature so much as a statement on just how good and even a year of music this was. Marissa Nadler's latest effort is a complete gem, showcasing her brilliantly hushed instrumentation with her luxurious pipes. This is Joanna Newsom with fewer WPS (words per song) and less comparisons to Lisa Simpson in vocal pitch. Her stories are classic, her words laced with spacious echo that only add to the quality of the songs. Each listen demands another until you become completely convinced that she is one of the premiere artists in American folk music.
Download: Thinking of You, Diamond Heart
23. The New Pornographers – Challengers
Many readers out there will disagree with this placement for myriad reasons. "Those guys are just on cruise control, no more energy." "Boring, no pep." "MAKE ANOTHER MASS ROMANTIC ALREADY!" But hidden in those potential criticisms is an underappreciated eloquence, a solid and soulful core crafted by a band willing to branch out its sound. Maddening and rollicking songs have given way to purely beautiful, even-tempo tunes. "My Rights Versus Yours" isn't merely a band maturing; it's a band spreading its wings and stepping out of its comfort zone. A.C. Newman, Dan Bejar, Neko Case, and the rest of the Pornos have refined their musical chops without sacrificing what it is that made them great in the first place. If this music is approached by a mind not expecting to hear the same old NP standards, much good will be discovered.
Download: Myriad Harbour, Challengers
22. Deer Tick – War Elephant
This is a strange spot for something to be that I rated so high not too long ago in a review but taking all of this year into account, this is an appropriate position. War Elephant is a rustic folk album full of rewarding metaphors, stories anyone can relate to, and music that transports you down a dusty mountain road. Gravelly vocals help add to the mood as well. With everything taken into account, this is one that any fan of the classic Americana singer/songwriter would want to hear.
Download: Dirty Dishes, Art Isn't Real (City of Sin)
21. Menomena – Friend and Foe
The style of Menomena's music won't strike chords with everyone, but it has a certain je ne sais quoi that's undeniably refreshing. These Oregonians mix uniquely programmed drum machines with live orchestration for swirling mixes of tinkering pianos, swollen guitars, and damn near ghostly vocals. The packaging alone on this album is wild and the music within backs it up spot on, rumbling, dancing, shaking like an electrocuted monolith. Menomena, on Friend and Foe, moved from a cult favorite to a band who make not just intriguing sounds, but excellent, full songs as well.
Download: The Pelican, Wet and Rusting
20. The Twilight Sad - Fourteen Autumns and Fifteen Winters
The Twilight Sad sound like they are Scotland's answer to the Arcade Fire. What took them this high on my list was the elegant mixture of James Graham's emotive vocal delivery mixed with U2-level bombast on each song, a compelling delivery vessel for lyrics about varying levels of remembered teenage angst blossoming into worldly frustrations, concerns, and appreciations. The accordion usage doesn't hurt the unique stamp of this band either. Occasionally bordering on melodramatic with chords screeching and wailing into the stratosphere, but always engaging enough to keep you listening.
Download: Cold Days from the Birdhouse, Walking for Two Hours
19. Tegan and Sara – The Con
There was a time not too long ago that imagining the thought of putting Tegan and Sara on any year-end top list of mine would have brought forth a hearty laugh. I still think it's an amusing thought, but now it's a complete reality with The Con, far and away the best album these Canadian sisters have put out to date. Each sister wrote an equal amount of songs here, putting their chops independently and collectively toward 14 brief bursts (none longer than 3 1/2 minutes) of outspoken, lovelorn pop nuggets. I'm as jaded as the next person about albums focused nearly completely around trying to find and hold on to love, but the agitated synth-folk title track and pseudo-punk tortured kiss-off of "Hop a Plane" are impossible to escape. You fall into these songs and don't climb your way out until you realize that as simple as these songs may be, they are undeniably relateable and not just for the sisters, but for anyone who feels them.
Download:

18. The Field – From Here We Go Sublime
From Here We Go Sublime may be my surprise album of 2007. Never would I have expected that a low-key electronic album would be this good. As the first few minutes went by on the first song during my initial listen, I was a bit bored but then as the minutes and songs went by, some primal switch within me clicked and all of a sudden, these inorganic tones and pulsing subterranean beats formed into something much more, something instinctive and necessary, with an actual soul forged out of these computed harmonies. This album may have singlehandedly opened my mind more toward this genre. I previously (and erroneously) feared it due to its lack of distinct emotional sway, but this is a monument to the future - and, at the very least, the present - of electronic music.
Download: A Paw in My Face, Sun and Ice
17. Animal Collective – Strawberry Jam
People who know me best know the insatiable love I have for Animal Collective music. Their best songs have soundtracked some of the most wonderful moments of the past few years of my life and they still manage to create exciting new sounds and combinations of ideas. Strawberry Jam is their latest chapter, bringing their sound more into the electro-freakout realm once explored with Here Comes the Indian. Now, however, the fractured beauty within their songs shines through more through the inhuman shouts and fizzling glitch eruptions. "Fireworks" and "For Reverend Green" are this album's awe-inspiring centerpieces, summing up a band continuing to stay in the stride they hit long ago by evolving in their own fucked up way.
Download: Fireworks, For Reverend Green
16. Jens Lekman – Night Falls Over Kortedala
Oh, not so silent anymore are you, Jens? This album was one of the most critically adored releases of the year..and for good reason. Songs about forbidden love, orchestras in the key of kisses, and drunken ragtime doo-wop tunes for someone you don't love anymore are just a few of the things you'll find in this effort, surely one that will send Lekman off on more headlining tours than he ever thought possible. And of course, we can't ignore his buoyant vocals that glide along effortlessly, creating AM radio hits that are somehow destined for FM, television shows, and feature length films. Keep these coming.
Download: A Postcard to Nina, And I Remember Every Kiss
15. LCD Soundsystem – Sound of Silver
LCD Soundsystem's first album came into my ears like an addictive explosion and left my mind far too soon. Its problem was a complete lack of staying power to me. Sound of Silver completely fixes this problem. My mind was completely blown by the sounds James Murphy managed to create which somehow often brought to mind Talking Heads and any number of proto-punk groups that want you to multitask with that mind while moving those hips. It is completely amazing to me that a dance-rock album would not have a single weak track, but that's exactly what we have here. The trio of songs from "North American Scum" to "All My Friends" may affect the head-boppers more than any other this year as well, helping to create a new era of intelligent dance music that is not focused around small beats and subtlety, but disco aesthetics and everyman grooves.
Download: Someone Great, All My Friends
14. Les Savy Fav – Let's Stay Friends
Tim Harrington has had a great year, from being a mosquito for VH1 to making the 14th best album of the year and one of the finest of Les Savy Fav's existence. Following up the rocking compilation of Inches is Let's Stay Friends, a pedal to the floor, tuneful piece of work that finds the group mining heartbreak and the rock 'n' roll lifestyle like there's no tomorrow. "The Equestrian" is a messed up mission statement of the album, a song about what I believe to be sexual activities with some sort of thinly veiled equine metaphors. Thing is, it rocks out. Hard. Turn this joint up to 11. Also, I hope I'm not the only one who realized that the first three letters of the album are LSF as well.
Download: Comes&Goes, The Equestrian
13. Shape of Broad Minds – Craft of the Lost Art
The hip-hop album of the year. Craft of the Lost Art comes off like Madlib and Subtle going to a jazz bar downtown and kicking out a bunch of tracks with the house band, cerebral while still keeping a sense of their universally-acknowledged cool. MF Doom, Count Bass D, and Stacy Epps stop by to kick it for a while as well, jazzing it up over elevating synths, upright bass, and the occasional saxophone infusion. The album makes you want to do everything from party it up to just call up your honey for a talk about, well, I don't know...politics. You make the call. Pop this one in when you want to chill out with the most suave hepcats you know.
Download: OPR8R, Let's Go (featuring DOOM)
12. Andrew Bird – Armchair Apocrypha
I've seen Andrew Bird in concert twice and if the first two times were any indication of his progression, seeing him a third time might very well be a religious experience. Armchair Apocrypha keeps this violinist, guitarist, whistler, every instrumentalist moving ever forward in his attempts to bend and blur the lines of folk and pop music. He loops his own instruments over one another, allows his vocals to climb up one another and pile up at the top, feels his political stories and vibrant metaphors out as they discover themselves amidst the lovely musical cyclones. The man is becoming a master of his craft and I am just happy to be witnessing Mr. Bird's Wild Ride.
Download: Fiery Crash, Heretics
11. Stars of the Lid – And Their Refinement of the Decline
This double album is the most cinematic piece of music I have heard since the first time I heard a Sigur Ros song at 3 am when I was at a state I like to call "beyond tired." Right when this CD is put into your car CD player or you flip to it on your iPod while on a walk, every oscillation of every molecule around you starts to slow down to a speed in which everything is in a state of poignant suspension, making moments around you that only Hollywood can fashion with an extremely bloated studio budget. There are no orchestras and barely any different instruments around; just a genius sense of speed (slow), tone (few), and emotion (any and every). It has the potential to try your patience if you are not used to patient music but if you want the world around you to feel that much more buoyant and important, this album is one to try.
Download: Articulated Silences (Part 1 and 2), Another Ballad for Heavy Lids
10. Of Montreal – Hissing Fauna, Are You the Destroyer?
Kevin Barnes has made the best synth-disco-pop breakup album of all time. I know that it's hard to beat...all those other ones in that genre, but he did it with an impeccable sense for guilty pleasure beats, snide wordplay, and insidiously catchy songs that just refuse to leave you alone until you feel the way they want you to feel. Mr. Barnes struggles with a disintegrating relationship on the staggering "The Past is a Grotesque Animal" and substance abuse for artistic and personal achievement on the strangely peppy hit "Heimdalsgate Like a Promethean Curse." All of the dark recesses of everyday interpersonal and intrapersonal life are explored with glam-rock aplomb on this release, Of Montreal's masterpiece.
Download: The Past is a Grotesque Animal, Heimdalsgate Like a Promethean Curse
9. Iron & Wine – The Shepherd's Dog
Sam Beam has at long last made the jump from Garden State variety subdued folk to fully realized and lush music on The Shepherd's Dog. Hints of reggae, acid-folk, and even some psychadelia are evident throughout with his voice, usually masked in some way, shining through the mist a little more than before, a thankful glimpse of the storyteller's spirit. He does not lose any of his mystique and surprisingly, he manages to sound even more focused in his quest of the perfect folk song. "Boy with a Coin" mixes hand claps into the mix perfectly with a wicked loop suited for hip-hop sampling and when the track completes itself, you only want to keep going back for more of Iron and Wine's fancy new, albeit familiar, incarnation.
Download: Boy with a Coin, Pagan Angel and a Borrowed Car
8. Spoon – Ga Ga Ga Ga Ga
With an album title fit for a baby and a holster full of hooks, Spoon's Ga x 5 bursts through speakers rapidly and without any remorse. Kill the Moonlight and Gimme Fiction were damn near classic albums and their latest doesn't remotely disappoint, adding horns and some added experimentation to the mix. Who else could make the most simple chord repetitions and vocals that sound like they're miles away get stuck in your head all day ("The Ghost of You Lingers")? Their A-game is on display as, once again, every song is a potential single and the singles they've already released to radio ("The Underdog" and "Don't You Evah") are unstoppable. They won't win any awards for extreme ingenuity, but they are a musical force who only manages to keep getting better.
Download: The Underdog, The Ghost of You Lingers
7. Battles- Mirrored
Mirrored is another album that had to grow on me over the course of the year. On first listen, I wanted to sign a restraining order against "Atlas," citing ingratiating vocals and excessive length. Some time passed, though, and I came to realize the futuristic beauty of this prog-funk-metal leviathan that befuddles its listeners until it makes them dance once acceptance occurs. "Tonto" is a perfect example, starting up slowly and gaining steam like a runaway locomotive until it goes off the tracks onto some fortuitously placed parallel tracks, near-tribal vocal shouts and a disco drum beat accompanying the ride the entire way. There are some slower numbers, but they do much to add to the atmosphere, helping the listener realize that this album may be a template for the future of music, an album ahead of its time. And as for "Atlas," the lyrics still don't make sense, but I can feel it now. It means something about a sandwich, right?
Download: Tonto, Atlas
6. Okkervil River – The Stage Names
Another album on this list that has a knack for bombast, though Okkervil River's latest is the most restrained of the lot, making it impressively focused and unexpectedly moving. Its opening track, "Our Life is Not a Movie or Maybe," churns slowly and only wears its heart on its sleeve during the chorus and the rapturous finale, building from quiet, quick guitar slices and a gentle piano to a thrashing outcry either against the drama related to just being human or the disappointment that comes with realizing that our lives aren't as well-scripted as some would like them to be. The narratives are both intellectual and effectual in every song, and the music chosen to surround them ranges from gentle confessionals with a ticking clock ("Savannah Smiles") to balls-out guitar romps ("Unless It Kicks"). A stunning release, The Stage Names is deserving of its top 10 spot.
Download: Unless It Kicks, Plus Ones
5. M.I.A. - Kala
Based on how much I was absolutely in love with Arular, I was expecting M.I.A.'s latest album to make the year end top list at one position or another. A top five spot wasn't guaranteed, but it was reasonable. And here we are, Kala, having blown up speakers across America, lands where it was meant to be. With world music fused with pop and reggaeton, she puts her finger on the pulse of our dance vessels (yes, I'm a nurse, they exist) to know that we all need more didgeridoos ("Mango Pickle Down River"), Pixies samples ("20 Dollar"), and...chickens (the hear-it-to-believe-it "Bird Flu"). They are not all dance floor ready, but they are definitely all breaths of fresh air into any scene. M.I.A. is one woman who is completely poised to break down musical barriers to unite us all into one world nation under a groove.
Download: Bird Flu, Bamboo Banga
4. The National – Boxer
Boxer is a good album the first time you hear it, a great one the second time and by the time the third listen comes around, it's damn near indispensable. The National don't pull any fancy tricks, they don't use any string quartets, they don't bring in guest stars to mix up the formula; they simply put out a great album, one that may be perfect for walking or driving down a dark, dimly lit road at 2 am after a night full of bad decisions that may turn out for the better or worse. That blessed uncertainty courses through the veins of this album, Matt Berninger's fabulous baritone incanting some morose tales with just enough rays of light to keep things from being too heavy. This is Interpol without the Joy Division/New Order fetishism; simply put, this band is not afraid to be afraid, not too happy to be unhappy, but not too jaded to eliminate the basic human sources of hope from their songs.
Download: Fake Empire, Green Gloves
3. Burial - Untrue
For an album full of various vocal snippets, what is actually being said does not matter nearly as much as the entire universe surrounding it on dubstep artist Burial's latest album. I am not intimately familiar with this genre but any fans of Massive Attack, Portishead, or other trip-hop artists will find endless amounts of enjoyment here...if enjoyment is the appropriate term. The presentation is incredibly thick and sheer to match the rainy night alley aesthetic Burial has created, evoking bewildering skeletons in your emotional closet or just the most subdued evening you can remember. "Archangel" is a cornucopia of sensations hiding beneath a jet black exterior and the remainder of the album is as shivering. The thing is that you don't want to stop listening. It is one that you will keep coming back to for weeks, months, maybe even years to come.
Download: Archangel, Endorphin
2. Ola Podrida – Ola Podrida
I was excited about this debut full-length when I was just a young man downloading songs from their Myspace page last year. When their self-titled debut graced my ears, I immediately fell in love and haven't looked back since. This is a band who I will constantly pimp out to my friends, assisting them to fall in love with David Wingo's uncanny ability to make me feel like I'm on a never ending road trip, only its one where at each stop is another turning point of my life, both in relationships and friendships, internally and externally, accompanied by guitar chord progressions that even I could play. It is easily the simplest album of my top 50, but it is one of the most beautiful things I have heard in ages. If you hear "Photo Booth" once and don't have any memories that come to mind and aren't at least slightly moved by "Day at the Beach," you just need to live more of your life. That's the stunning power of this release. It taps in to what you have and what you need, helping you to realize unconsciously what you should be doing and even if you're not able to do so at that point in time, knowing is half the battle.
Download: Photo Booth, Lost and Found
1. Panda Bear – Person Pitch
What a long, strange trip it has been indeed. Noah Lennox has seized the top spot on my list this year, shooting far ahead of his Animal Collective brethren, with an album straight out of Brian Wilson's beach side daydreams. In albums released in 2007, its use of samples and perfectly blended vocals has no equal. One listen is enough to hook you. "Comfy in Nautica" sets off the show with a casual genius, mixing together slow hand claps with the sound of rockets blasting off through acid skies while Lennox bobs like a buoy in a sound scape I could never accurately describe. The virtues of "Bros" have been extolled by nearly every music publication and I can't find faults in it. It's a 12 minute centerpiece of a gorgeous album, complete with an owl (!) at its onset. And "Ponytail," as the album's shortest song and finale, is perhaps the prettiest closing song I have ever heard, perhaps touching about meditation and spiritual growth. Person Pitch is my personal choice for the top album of 2007, rounding off a fantastic year in music with a collected, spiritual exuberance that I didn't even know I needed.
Download: Comfy in Nautica, Ponytail