RMR February Showcase - HUGE LINEUP
--- FLYER CODE ---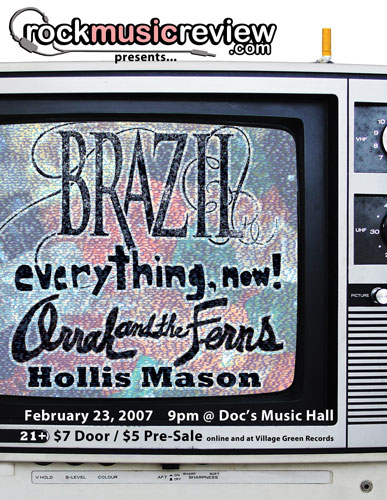 pre-sale tickets -- help spread the word!

The above code is usable on myspace, livejournal, and most blogs!
PRESS RELEASE ---
Rock Music Review will host it's monthly showcase in Muncie, IN on February 23, 2007 at Doc's Music Hall. The showcase features four bands, including Muncie-gone-national band Brazil as well as Muncie/Indy favorites Everything, Now!, Arrah and the Ferns, and Hollis Mason.
Brazil will just be getting off their 3-week tour with Wax On Radio and Forgive Durden in support of their recent release on Immortal Records, "The Philosophy of Velocity". The band has called the event "A show that all subsuquent shows shall be forever measured against."
Everything, Now! will be back from their short hiatus and may make this show the release party for their new album. Arrah and the Ferns will also be joining the lineup, in between touring all over the U.S. in support of their Standard Recording release, "Evan is a Vegan".
Hollis Mason is a new band with familiar faces. This three-piece might be recognized as The Dirty Steps, which was all three members of Hollis Mason with Justin North singing and playing guitar. Ryan Lash (drums) and Nic Lee (voice/guitar) were also in The Loud Reeds.
Tickets at the door will be $7, however presale tickets are available for $5 at Village Green Records and online at http://www.rockmusicreview.com/presale. The show starts at 9pm.
http://www.rockmusicreview.com
http://www.myspace.com/brazil
http://www.myspace.com/everythingnow
http://www.myspace.com/arrahandtheferns
http://www.myspace.com/tdsmunciehotmailcom
By the way, last month's show with Everthus the Deadbeats, The Elms, Maggie Kubley, and The Honeybear Wild was amazing! Thanks everyone for coming out.
Posted by jack at
11:53 PM
Support our advertisers...