Margot and the Nuclear So and So's
"Skeleton Key" (Original Standard Version)
This Indianapolis orchestra of a band made a huge splash in the Indiana music community via Standard Recordings and their "scarf rock" charm. They're now signed to Artemis Records in New York and just recently re-released their debut album, The Dust of Retreat, which is in stores now. A new record is expected in the near future.
www.margotandthenuclearsoandsos.com

Everything, Now!
"Freedom Sex with Bible Woman"
Take your 4-piece band, throw in layers of keyboards, random instruments, hoots, hollers and fun, and get everything, now! This Muncie band's critically acclaimed sophomore album, POLICE, POLICE is available on Standard Recordings. "Freedom Sex with Bible Woman" is unreleased, and will be on their next album on an announced label.
www.everythingnowmusic.com

Charlie Don't Surf
"Tremellow"
Psychedelic, Experimental, whatever you call it. It's pretty bad ass. Check this Muncie band live for some great improv noise! With a new album in the works (Woodenman Records), you can still pick up their debut, KvalitetsstŘy in indie stores.
www.surfingislame.com

Tiny Folk
"Love is a Thing"
I can't think of any other way to describe this song besides cute. Tiny Folk is Russ Woods, a student at IU who makes music in his spare time. His latest full length release, Love Doesn't Grow On Trees, came out on Agriculture Records in January. "Love is a Thing" is set to release on a 7" split with the Encyclopedias on Ought Implies Can Records.
www.myspace.com/tinyfolksings

Arrah and the Ferns
"Emo Phillips"
Who could resist yellow boots and a unicorn costume? This group of Muncie kids makes folk that's fun. Their debut album, Evan is a Vegan, will be released on Standard Recordings late this summer.
www.myspace.com/arrahandtheferns

Catch the Bear
"Down to the Sea in Ships"
This Lowell, IN songwriter sounds like "a herd of wild buffalo stranded on the moon" and has his entire album available online:
www.screamcast.net/catchthebear

The Belle Ends
"Into You"
Wow, can Maggie ever belt out some vocals! In fact, the doctor made her stop singing for a while… but she'll be back. And anyway, you can still pick up their demo at indie music stores.
www.myspace.com/thebelleends


SIDE B (MOVE YOUR FEET, PLZ)

Everthus the Deadbeats
"Trevor Dust the Bedsheets"
This is an exclusive preview of the Deadbeats' new album, due out soon on an unannounced label. Coming out of Muncie and Bloomington, they'll have you making moves you didn't think were possible.
www.myspace.com/everthusthedeadbeats

Pink Mountaintops
"New Drug Queens"
This Jagjaguwar (Bloomington) band is from Canada and is a side project of Black Mountain. Their new album, Axis of Evol, is in stores now.
www.myspace.com/pinkmountaintops

Death From Above 1979
"Sexy Results [MSTRKRFT Remix]"
Here's some more Canadian music that will move your feet. DFA1979 has become an indie electro dance icon throughout the world. This track comes from their new remixed album, Romance Bloody Romance, available on VICE Records at most music retailers.
www.deathfromabove1979.com

The Bloodsugars
"Bloody Mary"
Brooklyn indie-pop at it's finest. The Bloodsugars offer a retro kick and has a CD, Fine Fine Fine Fine Fine, and is currently unsigned.
www.myspace.com/bloodsugars

Jesse Dangerously
"Outfox'd"
Canadian Nerd Rap! Jesse Dangerously is a clever rapper and with Aesop Rock's beat maker (Blockhead), he can't go wrong.
www.dangerously.ca

…revel in the morning
"Seeds of Devo"
Revel will go down in history as giving birth (alongside Arcade [now Killjoy Confetti] and Archer Avenue) to a plethora of good Muncie bands. In fact, since revel broke up in 2003, its members have been involved in over 20 other bands and projects as well as inspired many musicians and scenesters in the area. Check out their DVD, Ashes of Rhetoric, now available at Village Green Records in Muncie.
www.myspace.com/revelinthemorning

BIGBIGcar
"PEACE ATTACK!"
When I first saw this band I knew I had to have them on this mixtape. Since then the band was signed to Standard Recordings, who will release their album, Limestone Throne/ Kid Fight.
www.myspace.com/bigbigcar


TOP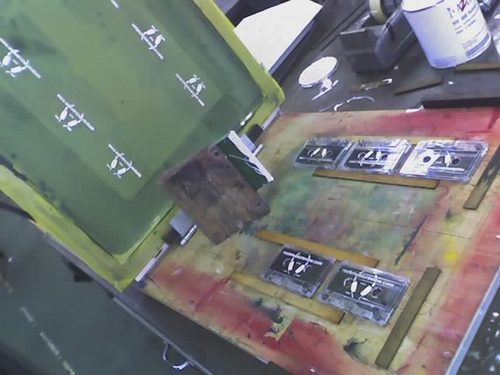 Ah, the screen. What would screen printing be without one? The screen and parts holding device were made to produce 6 tapes at once, with 6 seperate strokes of the squeegee.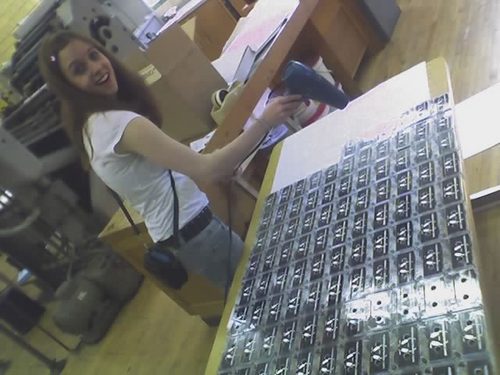 Lynda loves blow drying, especially hundreds of audio cassettes.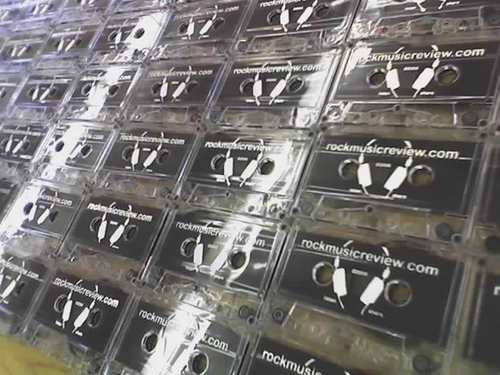 With that many cassettes laying around, who wouldn't take a photo like this? I mean, seriously. You just can't not.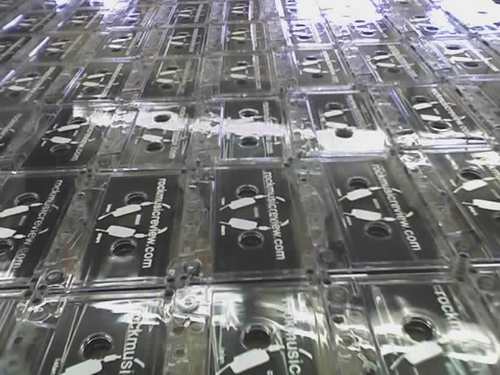 In fact, we might as well take two of these pictures.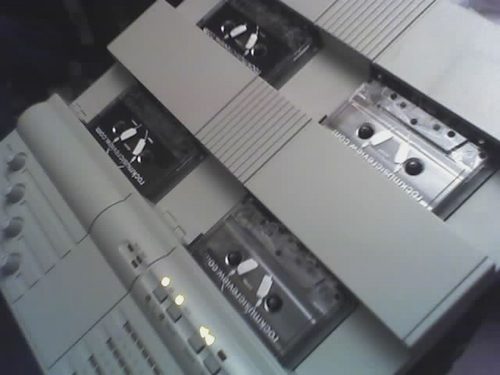 Ah yes, the funnest and slowest part of the whole process (and you thought it was the printing part). Sure this contraption duplicates both sides at high speed, but when you consider it only does 3 at a time and it rewinds them too, wowzers. Talk about a week of fun. But it sure beats real time! Thanks to Indiana Public Radio for allowing us to borrow this fine piece of 1990's technology that was collecting dust on their shelves.


TOP




Screen Printing Team (Lynda Klueh, Rachael Minucciani, Ben Pease, Brian Peyrot)
Standard Recordings (seriously, you guys are awesome and so are your bands)
Village Green Records (home of the $.93 glass bottled coca-cola)
TheMuncieScene.com
MusicalFamilyTree.com

Everything, now!, Everthus the Deadbeats, and BIGBIGcar for allowing us to take the virginity of their unreleased tracks (in cassette format, no less).

Also gracias to:
Jagjaguwar Records
VICE Music
Luna Music
INDY CD & Vinyl
Sonicbids
Choa (props if you know him)
Friends & Family

Oh, by the way, if your mixtape looks funny… like it has blobs of ink or just isn't readable, then congratulations! You have a rare, limited edition copy! And if you got the "punch and pie" reference, I'm glad someone else is glued to Comedy Central all the time.

TOP





TOP