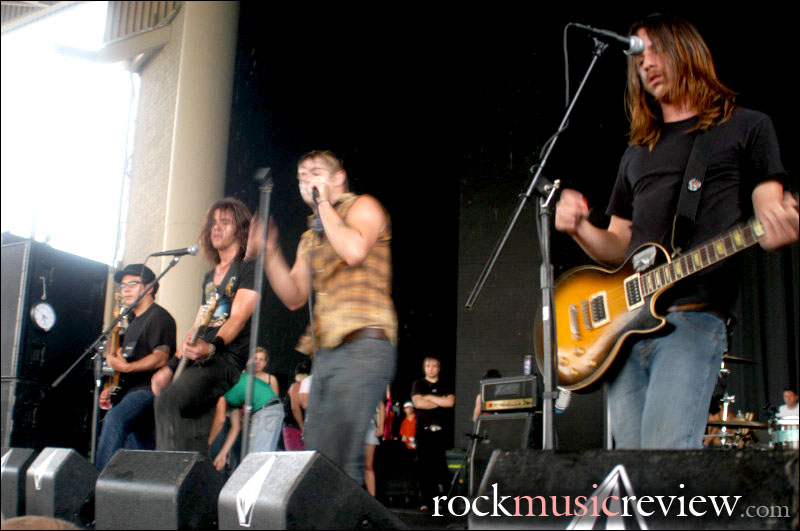 After two years of travelling with the Van's Warped Tour, new Island Records band Letter Kills has already earned an enthusiastic following and has finally put out their first album, The Bridge.
Hailing from California, this five member band started writing songs together depite their musical differences as soon as they met in August, 2002. But don't be fooled - their individual styles meshed very well and fans loved them.
When interviewed during their stop at the Warped Tour 2004 in Indianapolis, lead singer Matt Shelton said that he appreciated playing larger tours because fans aren't forced to listen to a band if they don't like them.
"It takes a lot of pressure off your individual band. You can just do your thing and play your music," he said, noting that "if people like it, they like it."
"It's nice to have no particular band under the spotlight; where kids have the chance to see bands they normally wouldn't see."
It's that aspect of larger tours that makes great bands like Letter Kills emerge. Their energetic live perfomance always pleases crowds and certainly earned them their spot on such a large label.
"You hear stories about bands not having control of their music on large labels, but we have control, and that's why we're not so hesitant (to sign onto a large label like Island)."
The album starts with "Lights Out", which appears to be a song about prayer. Although the members of the band are all Christian, Shelton said their band doesn't concentrate on their religion or preach in their lyrics because they feel that "alienates the kids that don't really care."
"Don't Believe" and "Radio Up" are sure to be hit amongst the new punk generation.
The remainder of the album features songs mostly about working through relationships. "Hold My Heart", a two-part song with slow melodies and soothing vocals is a great song to include on a mix CD to a romantic interest.
Fans of bands like Thrice, Lostprophets, Sum 41, or Saves the Day need to pick up this album. It has been in the works for two years and it shows.
Letter Kills' The Bridge is definitely one of the best breakout albums to come out this summer.