I know it's hard to believe, but life in Indiana isn't all corn, basketball, church, and fast cars.
I'll put my foot down and say it: Everything, now! is unlike anything you've heard before, yet everything you've loved all mashed together. They bring all that's good about indie rock into a retro-esque, easy-flowing, good-feeling, fast-pased orchestra. In other words, everything. Now.
Police, Police! is set out with the noise polution of cars passing, the steadily increasing blare of road-ragious honkers, a motorcycle zipping by and a CRASH! Police sirens immediately whirl in, followed by a chant: "Police, Police. Police, Police" which absorbs into the ever-realms of sound.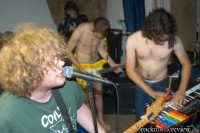 Check out photos of everything, now! from a July 2005 show »
Then, a faint whisper: "police, police".
From there the band goes into six well-produced and recorded songs, mostly about life in Indiana. With varying beats, keys and voices, the first track, "Masacre at Birdshit Carwash," has so many elements and feelings that it can very well sum up their literal name.
However, my favorite song on the album is definitely "Double Bath". After a collage of people making bumble bee noises and whines and general confusion, there's a shout: "Cut it out!" From there the synth starts a steady aquatic echo that prepares you for a calm build up into a song more complex than anything you'll hear on the radio, but still catchy enough to make you have to hear it... and sing along to Jon "Crafty" Rogers' lyrics.
Stop dead in your tracks / you forgot something but you can't go back / and it's high / time / now / to know the leaves are gone.

black hole in the yard / the fire alone goes up in all my love / i think we lost him again, but no such luck.

"I Live in a Trailer Park" is an anthem not just for those that live in a trailer park, but for anyone de-humanized by the mainstream.
We live in a trailer park / we know all kinds of evil // We barbeque babies / we sacrifice goats / but we're really just regular people. // We're really just regular people.

(Oh) Heaven's a lot like a trailer park / We all want you to be a resident // The devil is just like a normal guy / he could be you or the priest or the president.

"Fishbowl Prank" has my favorite lyrics on the album. I can't speak for the writer, but to me this song is about living life the way you want - the way that makes you happy - regardless of what society tells you is allowed or not.
Well someone out there hates the way we live (our record collection, our movie selection) // His name isn't satan and he's not middle eastern (in fact a lot of people say they really love him)

But God said let there be cash and there was // and now he wants his money back / but i think it's too late for that // Sorry old friend!

...
One day they'll legalize love and everyone will sing together
I've seen everything, now! live. As if the album didn't speak volumes enough, their live performance is quite an experience as well. Screw the typical 4 member band ideal. Throw in a bunch of extra instruments and a ton of friends, and call it everything, now!
POLICE, POLICE somehow leaves you feeling empowered, as if there's a bigger purpose - a purpose that's friendly and fun, but important enough for empowerment.
Despite listening to this album constantly over the past few months, it took me writing this review to truly understand the focus of POLICE, POLICE. Listen to it repeatedly, open your mind, and it will drift your way like a puff of smoke.
With 12 songs planned, the band starts recording a new album next week, and to put it lightly, I can't wait to hear it!